Michael has written…
Emancipation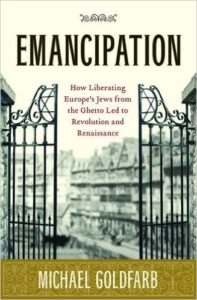 For almost 500 years, the Jews of Europe were kept apart, confined to ghettos or tiny villages in the countryside. Then, in one extraordinary moment in the French Revolution, the Jews of France were emancipated. Soon the ghetto gates were opened all over Europe. The era of Emancipation had begun. What happened next would change the course of history. Emancipation tells the story of how this isolated minority emerged from the ghetto and against terrible odds very quickly established themselves as shapers of history, as writers, revolutionaries, social thinkers, and artists. Their struggle to create a place for themselves in Western European life led to revolutions and nothing less than a second renaissance in Western culture. The book spans the era from the French Revolution to the beginning of the twentieth century. The story is told through the lives of the people who lived through this momentous change. Some are well-known: Marx, Freud, Mahler, Proust, and Einstein; many more have been forgotten. Michael Goldfarb brings them all to life. This is an epic story, and Goldfarb tells it with the skill and eye for detail of a novelist. He brings the empathy and understanding that has marked his two decades as a reporter in public radio to making the characters come alive. It is a tale full of hope, struggle, triumph, and, waiting at the end, a great tragedy. This is a book that will have meaning for anyone interested in the struggle of immigrants and minorities to succeed. We live in a world where vast numbers are on the move, where religions and races are grinding against each other in new combinations; Emancipation is a book of history for our time.
Ahmad's War, Ahmad's Peace: Surviving Under Saddam, Dying in the New Iraq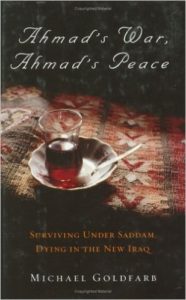 From public radio journalist Michael Goldfarb comes the most stirring narrative to emerge from the Second Gulf War, from the frontlines of battle, to the home of an Iraqi Kurdish family, and into the hearts of two men from different cultures whose friendship and passion for freedom will inspire all. Ahmad's War, Ahmad's Peace is Goldfarb's moving tribute to Ahmad Shawkat, the Iraqi Kurd who served as his translator during "Major Combat Operations," whose life's work was to promote freedom, and who was ultimately murdered during the American occupation. Goldfarb recounts his powerful relationship with Ahmad and introduces readers to the life of a true Iraqi hero. Eighteen years old when the Ba'ath Party seized control of Iraq, Ahmad was imprisoned and tortured twice by Saddam Hussein's regime, was forced to fight in the Iraqi army against Iran, and was banished from his hometown of Mosul for his anti-Saddam political writings. Just as he began to taste freedom with the fall of Saddam and his large family's return to Mosul, Ahmad was murdered for publicly decrying Islamic terror. As Goldfarb investigates his friend's murder, he mourns this loss and contemplates what dangers await the Iraqi people in their uncertain future.